EARTH FUTURE ACTION
HOME ABOUT REPORTS CONTACT HELP WANTED
---
SOCIAL DISASTER USA 2021
MILLIONS OF AMERICANS FACE STARVATION AND POVERTY
THINGS ARE CERTAIN TO GET WORSE AS EVICTIONS GROW AND THE STUDENT LOAN MORATORIUM ENDS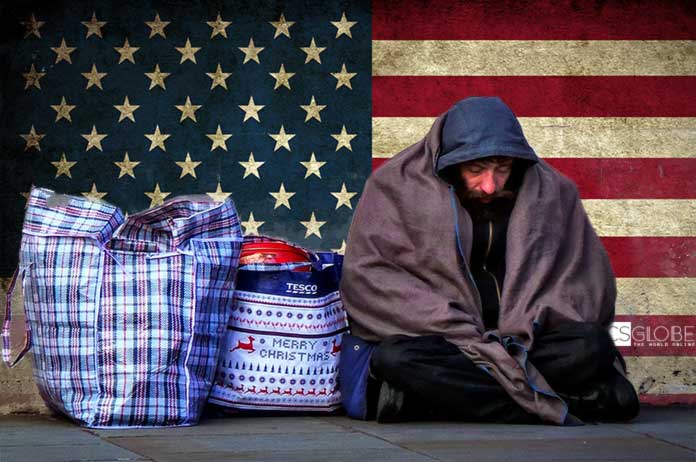 ---
Ever since the COVID-19 pandemic hit, citizens all over the U.S. have been struggling to make ends meet and put food on their tables. According to an NPR/Robert Wood Johnson Foundation/Harvard T.H. Chan School of Public Health poll, 38 percent of U.S. households reported facing serious financial problems in the past few months during the outbreak of the Delta Variant (August 2 to September 7, 2021). These financial problems occurred despite 67 percent of U.S. households receiving financial assistance from the government. In addition to this, 19 percent of U.S. households reported losing their entire savings during the pandemic, leaving them with nothing to fall back on.
With these financial issues amidst the pandemic, there have been serious health consequences.
"In healthcare, 18 percent of households report anyone in their household has been unable to get medical care for a serious problem in the past few months when they needed it, with 76 percent of those unable to get care reporting negative health consequences as a result." (Robert Wood Johnson Foundation)
Not only are people experiencing health complications, but children are also falling behind in school. 69 Percent of households with children in grades K-12 fell behind in learning during the pandemic, with 70 percent of these households feeling it will be very difficult for their children to catch up from education losses of the past year.
Currently, millions of Americans are out of work and are out of food, and the government's financial aid isn't doing enough. Over 20 million adults (around 9 percent of adults in the U.S.) reported they did not have enough food to eat in the last seven days (CBPP). 79 percent of these adults said this happened because they could not afford to buy more food. In addition to this, 7-12 percent of households with children reported their children often did not eat enough in the last seven days because they could not afford it.
These numbers are worse for non-white individuals. 15 Percent of Latino adults and 18 percent of Black adults reported their house did not get enough to eat, making them twice as likely as white adults to report this.
The devastation from the pandemic has left Americans struggling to feed themselves and their children, pay rent, afford household expenses, and find jobs. Millions of people are struggling to survive right now and the government's provided assistance is not nearly sufficient enough to make a dent in the ongoing crisis. Action needs to be taken immediately or many more will die from the aftermath of COVID-19—not the virus itself.
---
RELATED LINKS
As the Delta Variant Continues, 38 Percent of U.S. Households Report Facing Serious Financial Problems Despite Two-Thirds Receiving Government Assistance (Robert Wood Johnson Foundation, 10-12-21)
Tracking the COVID-19 Economy's Effects on Food, Housing, and Employment Hardships (Center on Budget and Policy Priorities, 10-13-21)
---
RELATED EARTH FUTURE FUTURE ACTION ARTICLES
America's State of Emergency 2021 - An Agenda For Action
Dead or Alive in Modern America - The Right to Exist
Life and Death in America (Audio)
Time for Action on the Student Debt Crisis