EARTH FUTURE ACTION
HOME   ABOUT    REPORTS    CONTACT HELP WANTED
---
PROTECT OUR TROOPS FROM BURN PITS
IT'S TIME TO SUPPORT LEGISLATION TO HELP VETERANS
WHO HAVE BEEN EXPOSED TO BURN PITS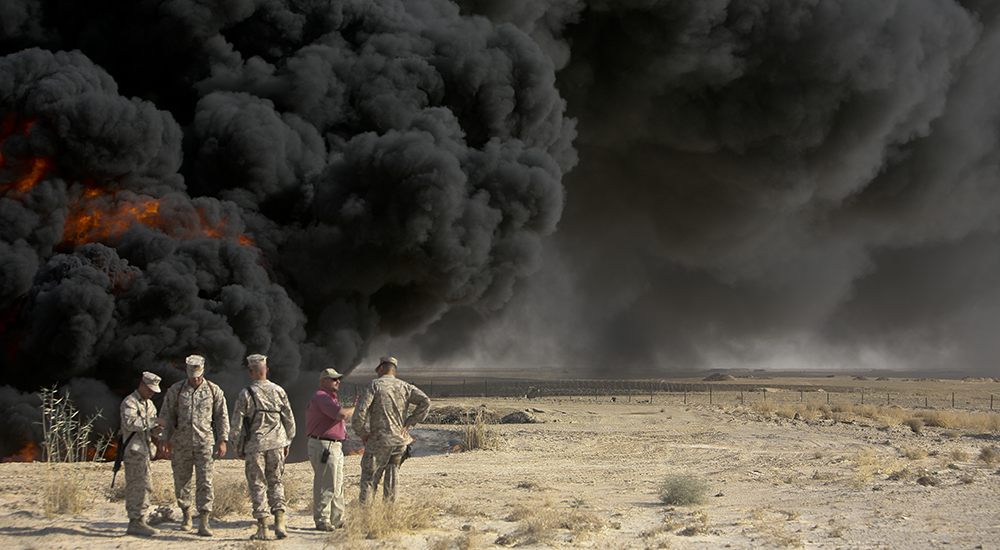 Imagine billowing black clouds of toxic smoke filling up the lungs of our men and women in uniform. Is this an attack from a foreign enemy? No, it's a method of waste removal at U.S. military sites all over the world.
According to IAVA (Iraq and Afghanistan Veterans of America), burn pits are the Agent Orange of our generation.
It has been reported that waste burned in the pits include the following:chemicals, paints, medical waste, human waste, metal, aluminum products, electronic waste, munitions (including unexploded ordinance), petroleum products, lubricants, plastics, rubber, wood and food waste.
The burning of such materials causes clouds of black smoke that blow into the lungs of our service men and women, potentially causing severe respiratory illnesses.
In the short term, burn pits cause irritation of the nose, eyes and throat; along with headaches, nausea and difficulty breathing.The long term effects remain largely unknown. But obviously it can't be good for a person to inhale jet fuel on a regular basis.
It is estimated that 3.5 million servicemembers and veterans have been exposed to burn pits. (IAVA)
There is also the issue of depleted uranium exposure, from which hundreds of thousands of veterans are disabled.
It is time to pass legislation to deal with this health hazard to our troops. And it is also time that this matter gets investigated.
---
Current Legislation 2021
Senator Kirsten Gillibrand and Senator Marco Rubio's Bill
Press Release of Bill(Senator Marco Rubio's Official Site, 3-26-21)
Jon Stewart, lawmakers announce legislation to help veterans impacted by burn pits (ABC News, 4-13-21)
Senator Sullivan Bill
Press Release for Burn Pits bill on Senator Sullivan's Website
S.437 - A bill to amend title 38, United States Code, to concede exposure to airborne hazards and toxins from burn pits under certain circumstances, and for other purposes. (Congress.gov)
VFW Supports Burn Pit Legislation (Veterans of Foreign Wars)
This article is about a previous version of the bill above.
---
Articles About Burn Pits
Burn Pits (Wikipedia)
Burn Pits 101 (Iraq and Afghanistan Veterans of America)
Airborne Hazards and Burn Pit Exposures (U.S. Department of Veterans Affairs)
Burn Pit Locations (Vets HQ)
---
Organizations
Iraq And Afghanistan Veterans of America
---
Registry
VA Airborne Hazards and Open Burn Pit Registry
Anyone exposed to a burn pit should sign up with this registry to ensure awareness and treatment for related issues.
---
Books
The Burn Pits: The Poisoning of America's Soldiers (Amazon)
---
Video
Delay, Deny, Hope You Die Official Trailer | Passion River Films (YouTube, 6-22-18)
NYC Veteran's Alliance President Speaks About Her Exposure to Burn Pits (YouTube, 6-1-18)
President & Founding Director of the NYC Veterans Alliance, Kristen Rouse discusses her exposure to burn pits and support of burn pit legislation.