---
INAUGURATION DAY JANUARY 20, 2021
PRESIDENT BIDEN AND VICE PRESIDENT HARRIS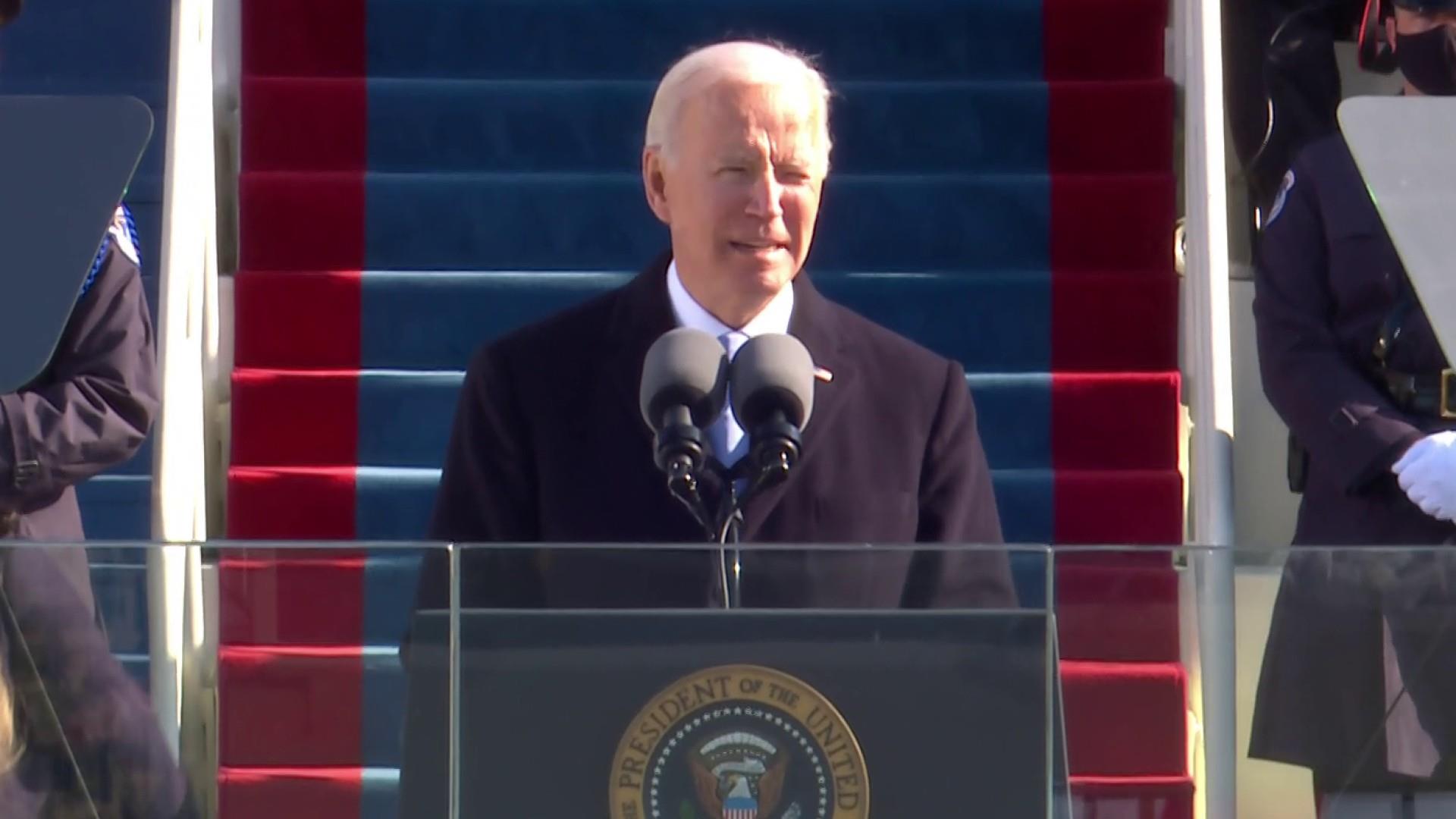 "To those 400,000 fellow Americans -- mothers and fathers, husbands and wives, sons and daughters, friends, neighbors, and co-workers. We will honor them by becoming the people and nation we know we can and should be."
The focus of Biden's inaugural speech was moving forward as a nation to heal from the deaths caused by the Coronavirus, as well as healing from the political divisiveness that has consumed the country and culminated into a violent attack on the Capitol.
As Biden said in his speech, "So now, on this hallowed ground where just days ago violence sought to shake this Capitol's very foundation, we come together as one nation, under God, indivisible, to carry out the peaceful transfer of power as we have for more than two centuries."
We would like to offer our encouragement and support to Biden and Harris at the beginning of their journey to help the United States heal as a nation. It will not be easy. In fact, they will probably have the hardest job of any President and Vice President in modern history. But we believe the successful election and inauguration of Biden and Harris represents a step in the right direction for the country.
Check out the videos and transcripts below.
---
PRESIDENT JOE BIDEN INAUGURATION SPEECH
Watch Full Speech: President Biden Delivers Inaugural Address Video (1-20-21)
Read: Joe Biden's Inaugural Address Transcript (1-20-21)
FULL INAUGURATION CEREMONY
Watch Joe Biden and Kamala Harris Inauguration Ceremony Video (1-20-21)
INAUGURATION DAY CONCERT
Celebrating America hosted by Tom Hanks | Biden-Harris Inauguration 2021 (YouTube, 1-20-21)
IN FULL: 'Celebrating America' - Tom Hanks hosts concert for Joe Biden's inauguration Video (PBS, 1-20-21)
OTHER SITES
Biden Inaugural Committee YouTube
---
COVID-19 MEMORIAL - BIDEN AND HARRIS PAY THEIR RESPECTS TO THE 400,000 DEAD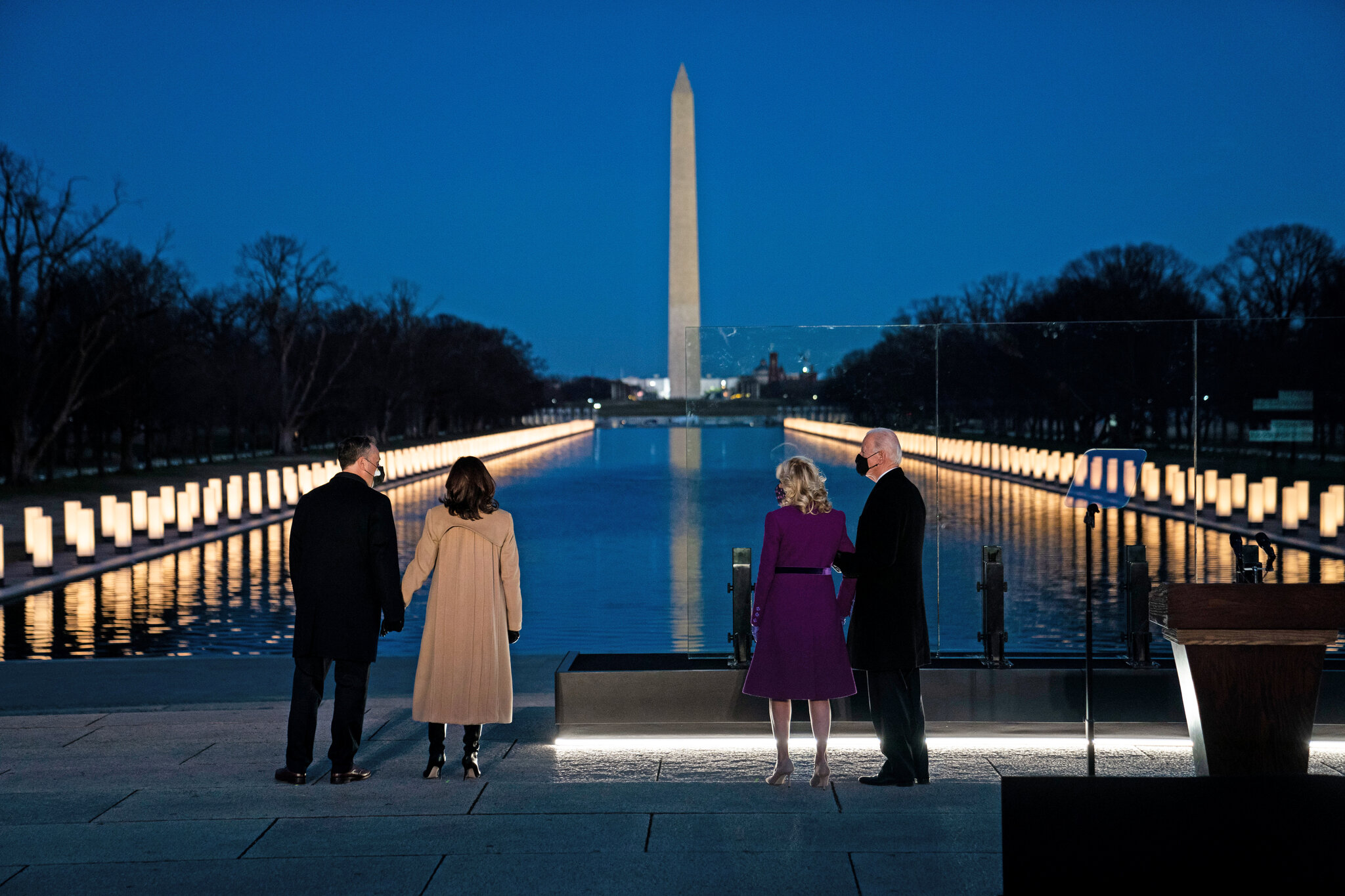 The day before the inauguration ceremony, President-elect Joe Biden and Vice President-elect Kamala Harris delivered remarks at a remembrance ceremony for the more than 400,000 Americans who died from COVID-19. Performances included gospel artist Yolanda Adams and Lori Key, a registered nurse from the Detroit-metro area, whose video of her singing to health care staff went viral. Washington, D.C., Cardinal Wilton Gregory delivered the opening prayer.
"It's hard sometimes to remember, but that's how we heal. It's important to do that as a nation," Biden said in brief remarks before 400 lights were illuminated along the edges of the Lincoln Memorial Reflecting Pool, marking the more than 400,000 Americans who have died from Covid-19.
Watch Biden & Harris Lead COVID-19 Memorial Ceremony Video (1-19-21)
Read Transcripts from Covid-19 Memorial Ceremony (1-19-21)
---
RELATED EARTH FUTURE ACTION PAGES
Official Congratulations to Joe Biden and Kamala Harris for Winning the Election
Earth Future Action Official Endorsement of Democratic Presidential Candidate Joe Biden
President Elect Joe Biden and Vice President Elect Kamala Harris Victory Speeches