---
TWO REFORMS NEEDED
TO THE 2020 ECONOMIC STIMULUS PLAN
RESTORE SOCIAL SECURITY OPERATING BUDGET TO 2010 LEVELS
END THE HEALTH CARE "OPEN ENROLLMENT" PERIOD
As the Coronavirus pandemic spreads, Americans face an economic crisis of historical proportions.
There is no doubt that this is going to create a serious death toll.
We certainly don't pretend to have all the answers, but here are two vital items that should be part of the government's economic stimulus bill:
- Restore Social Security Operating Budget to 2010 levels.
- End the Health Care "Open Enrollment Period," and allow people to enroll in health care all year.
---
RESTORE SOCIAL SECURITY OPERATING BUDGET
TO 2010 LEVELS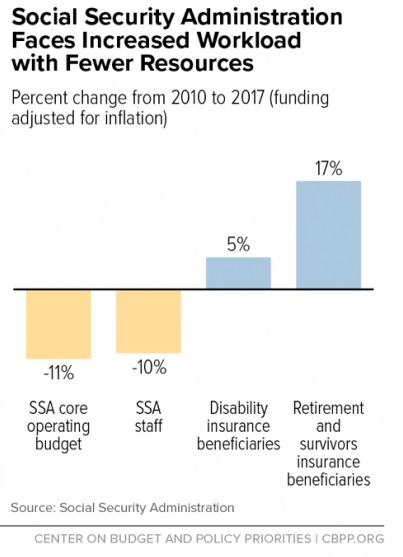 In the last ten years, we've seen the worst cuts ever to the operating budget for running vital social security programs.
This is a matter of life and death. One hour wait times are not acceptable on the phone and many offices have been closed.  Spending must go back to 2010 levels.
Because of drastic cuts over the years, thousands of people die waiting for their social security benefits. In 2017, 10,000 people died waiting for social security benefits (The Washington Post). And by 2018, 19,000 died waiting for social security disability benefits (Globenewswire). The wait for benefits has soared from around 350 days in 2012, to nearly 600 in 2017 (The Washington Post). The disability backlog has now reached more than 1 million Americans, with an average wait of 2 years — longer than some have to live. About 10.5 million people get disability benefits from Social Security, and an additional 8 million get disability benefits from Supplemental Security Income. The disability program is smaller than the Social Security giant's retirement program, but still, the agency paid out $197 billion in disability payments last year.
These record wait times are no surprise, given the fact that the Social Security Administration's (SSA) budget has been cut since 2010, while the number of people receiving retirement and disability benefits has risen by more than 7 million (The Washington Post). The SSA's operating budget has shrank 11 percent from 2010 to 2017 in inflation-adjusted terms, just as the demands on the SSA have reached an all-time high — baby boomers have reached their peak years for retirement and disability. Budget cutting has squeezed the SSA's operating budget from an already low 0.9 percent of overall Social Security spending in 2010, to just 0.7 percent in 2016.
At a minimum the SSA operating budget needs to go back to where it was in 2010.
RESTORING SOCIAL SECURITY BUDGET CUTS
Letter to Congressman Neal from Social Security Commissioners on Social Security Operating Costs (PDF)
Ex-heads of U.S. Social Security Administration offer plan to fix agency's customer service (Reuters, 6-5-19)
Let's Get Congress Off Social Security's Back (Forbes, 6-11-19)
NUMBER OF PEOPLE WHO DIED WHILE WAITING FOR SOCIAL SECURITY
Nearly 19,000 People Died Waiting For Social Security Disability Benefits In Two Years (Globe News Wire, 2-1-18)
10,000 people died in the past year while stuck in a backlog of judges' disability cases (Washington Post, 11-20-17)
OTHER RELATED ARTICLES
Fourth Stimulus Must Advance Seniors' Financial & Health Security (NCPSSM, 4-4-20)
Senate Bill Would Cut Social Security Operations Again (CBPP, 10-7-19)
Like everything else, Congress is underfunding the Social Security Administration (The Hill)
KEY GROUPS FIGHTING TO RESTORE SOCIAL SECURITY BUDGET CUTS
Social Security Works Center on Budget and Policy Priorities
National Committee to Preserve Social Security and Medicare American Federation of Government Employees
---
END THE INSANE "OPEN ENROLLMENT" SYSTEM
FOR HEALTH INSURANCE
People need to be able to enroll in a health care plan in order to deal with this crisis.  This should apply to all health insurance plans, including Medicare Part D, the drug plan.
Having a mere six weeks to choose and enroll in a health care plan is insane. And those who miss the enrollment period have to wait an entire year to sign up, unless they meet a special exemption.
In a time of crisis, where everyone needs health care in order to protect the general populous from a pandemic, the limitations on enrollment must be brought to an end. People must be able to buy health insurance anytime they want.