EARTH FUTURE ACTION
HOME   ABOUT    REPORTS    CONTACT HELP WANTED
---
COLLAPSE OF EAST COAST COD FISHING INDUSTRY
A WARNING TO THE WORLD
WHEN THINGS COLLAPSE THEY CAN COLLAPSE VERY QUICKLY
THE TIME TO CONTROL OVERFISHING IS NOW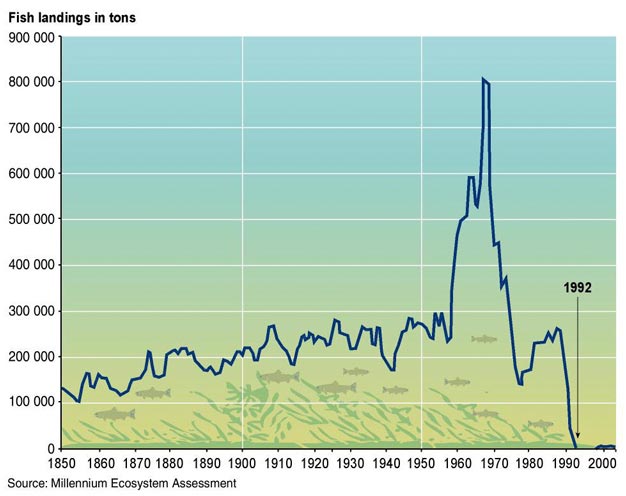 Overfishing led to a complete collapse of the cod population in Atlantic Canada, bringing the cod population down to 1%.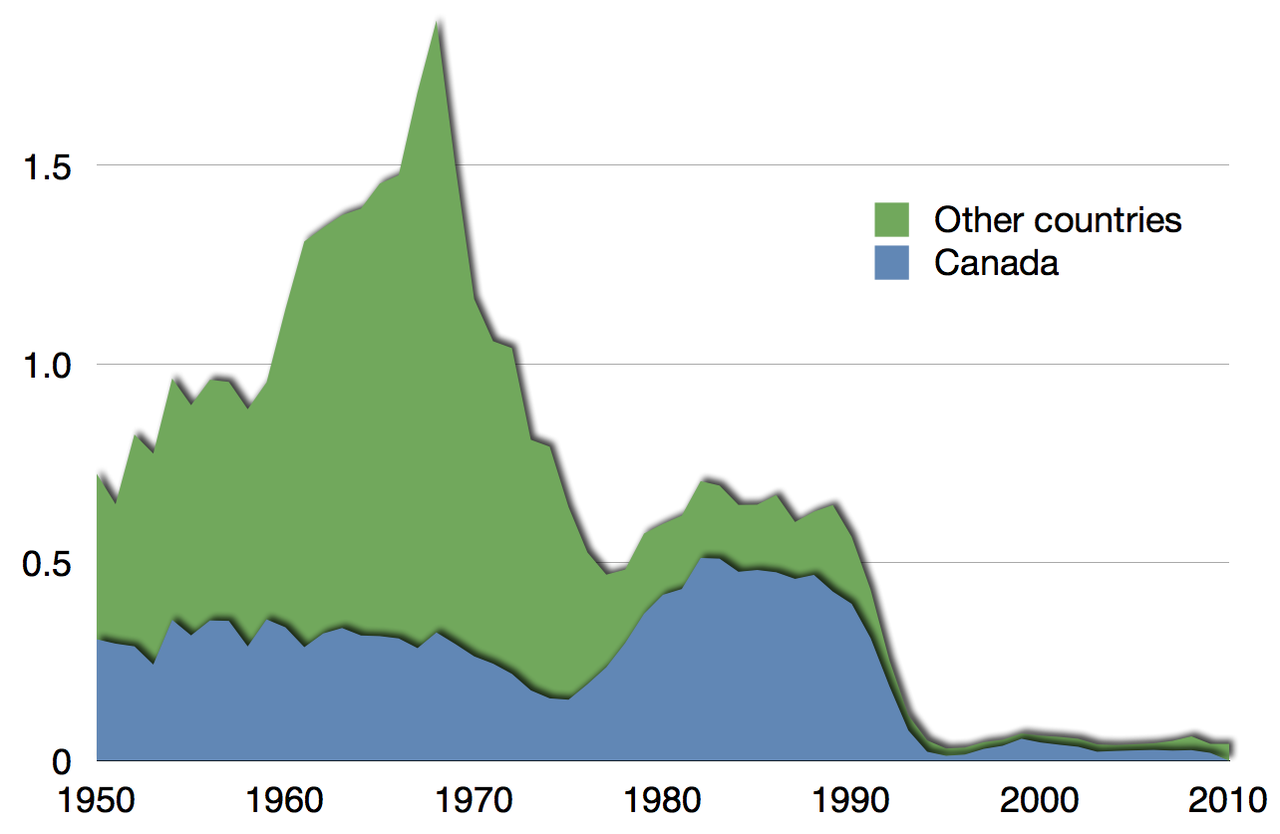 (Capture of the Atlantic northwest cod stock in million tonnes, with Canadian capture in blue)
---
THE ALARMING FACTS ABOUT OVERFISHING WORLD WIDE
(According to the chart above, around 90% of global marine fish stocks are either fully exploited, over exploited or have collapsed. Only 10% of the world's marine life is untouched.)
About 3 billion people live within 100 miles of the sea and rely on ocean life for food. And this 3 billion is a number that could double in the next decade as people flock to the coastal cities. The oceans produce $3 trillion of goods and services each year, as well as untold value for the Earth's ecology. Life could not exist without the ocean. The ocean is a vital part of the Earth's web of life. It produces half of the world's oxygen supply through photosynthesis by aquatic algae and other organisms.
So not only is overfishing a threat to sealife, but it is a threat to human life as well.
Below are some alarming facts about overfishing: Source: Facts and Figures: The Cold Hard Facts About Overfishing (World Wildlife Fund)
Today, each person eats on average 19.2kg of fish a year – around twice as much as 50 years ago.
In 2013 around 93 million tons of fish were caught world-wide.
Over just 40 years there has been a decrease recorded in marine species of 39%.
Illegal and unregulated fishing constitutes an estimated 11-26 million tons (12-28%) of fishing world-wide.
Almost 30% of fish stocks commercially fished are over-fished.
Over 60% of fish stocks are fully fished.
In the North East Atlantic and nearby seas, 39% of fish stocks are classified as overfished. In the Mediterranean Sea and the Black Sea there is sufficient data for 85 stocks, which shows that 88% of these (75) are overfished.
The European Union is the world's primary importer of fish.
More than 50% of imports are from developing countries.
---
OVERFISHING IS A THREAT TO OCEAN AND HUMAN LIFE
THE TIME FOR ACTION IS NOW
Overfishing threatens the web of life.
There are also other threats in the ocean as well. Such as the destruction of the coral reefs (the rainforest of the ocean), the acidification of the oceans due to climate change and the poisoning of the ocean via gigantic garbage islands that are all over the world. In 2008, there were over 400 "dead zones" in the oceans. Polluters pump out carbon dioxide, which dissolves in seawater, producing carbonic acid. That in turn has increased ocean acidity by over a quarter since the start of the Industrial Revolution. (AFD, 1-13-15)
It is time to stop destroying the world's ocean before it's too late. We include more resources below.
RELATED LINKS
Destruction of the World's Oceans (World Future Fund)
Plastic in Ocean (World Future Fund)
Crisis In The Oceans - An Action Agenda for the U.S. Government (Earth Future Action)
Collapse of the Atlantic northwest cod fishery (Wikipedia)
Food and Agriculture Organization of the United Nations - Indicators by Country
Humans are damaging the high seas — now the oceans are doing harm back (Action For Dolphins, 1-13-15)
Chart of the Day: The End of Fish? (Mother Jones, 10-2013)